Lymphedema Therapy Services
Fayette County Hospital
The Wellness Complex
825 New York Dr., Suite 2
Vandalia, IL 62471
618-283-5448
Hours:
8 am to 4 pm – Monday through Friday
What is Lymphedema and Edema?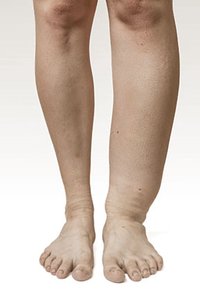 Lymphedema is a chronic health condition that refers to swelling that generally occurs in one of your arms and legs or both. Common triggers in the development of lymphedema include surgery, radiation therapy, or chemotherapy.
Lymphedema is most commonly caused by the removal of or damage to your lymph nodes as a part of cancer treatment. Lymphedema caused by cancer treatment may not occur until months or years after treatment. It results from a blockage in your lymphatic system, a part of the immune system. The blockage prevents lymph fluid from draining well, and the fluid buildup leads to swelling.
The swelling caused by lymphedema ranges from mild, hardly noticeable changes in the size of your arm or leg to extreme changes that make the limb hard to use.
While there is presently no cure for lymphedema, it can be managed with early diagnosis and diligent care of your affected limb(s).
Edema is swelling of a body part, which is an abnormal accumulation of fluid within tissues. This swelling can also be treated with techniques used to treat lymphedema.
Symptoms
Swelling on part or all of your arm or leg, including fingers or toes
A feeling of heaviness or tightness
Restricted range of motion
Aching or discomfort
Recurring infections
Hardening and thickening of skin (fibrosis)
When To See A Doctor
Make an appointment with your doctor if you notice persistent or increased swelling in your arm or leg.
A doctor's referral is required for treatment at the SBL Fayette County Hospital Wellness Complex.
Types of Lymphedema
Primary lymphedema occurs on its own.
Secondary lymphedema is caused by another disease or condition and is far more common than primary lymphedema.
Risk Factors 
Factors that may increase your risk of developing lymphedema after cancer, from cancer treatment or from other secondary causes include:
Older age
Excess weight or obesity
Rheumatoid or psoriatic arthritis
Complications
Lymphedema in your arm or leg can lead to serious complications, such as:
Infections – serious bacterial infections of the skin (cellulitis) and as infection of the lymph vessels (lymphangitis)
Lymphangiosarcoma – this rare form of soft tissue cancer can result from the most severe cases of untreated lymphedema. Possible signs of lymphangiosarcoma include blue-red or purple marks on the skin.
Treatment
Lymphedema Therapy
Our Klose-trained, certified lymphedema specialists use a non-invasive program known as Complete Decongestive Therapy (CDT) to treat lymphedema. CDT consists of the following treatment components.
Manual Lymphatics Drainage (MLD)   
MLD is a gentle, hands-on massage of both the affected body part and adjacent selected areas. MLD can move lymph fluid from the swollen region into part of the lymphatic system that is still functioning.
Compression Bandaging and Garment Fitting
Bandages and specially-fitted compression garments help prevent the reaccumulation of lymphatic fluid after decongestion.
Therapeutic Exercise
Medically supervised exercise programs that are designed to strengthen muscles and improve circulation and function of the lymph system.
Skin and Nail Care
People with lymphedema are at a higher risk for infection, especially in cellulitis.
Personalized Education in Self-Care
Maintain treatment progress taught through at-home techniques including self-bandaging, massage, exercise, and skin care.
Meet Our Therapists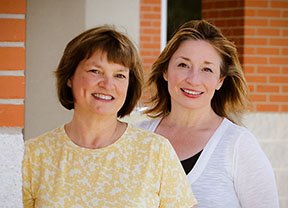 Cynthia Fedrigon, COTA/L, CLT (right)
Cynthia is a Certified Occupational Therapy Assistant and Certified Lymphedema Therapist. She earned her Bachelor degree at Eastern Illinois University and training in Occupational Therapy at Lincoln Land Community College in Springfield. She received certification in lymphedema therapy from Klose Training.
Amy Newsom, OTR/L, CLT (left)
Amy is an Occupational Therapist and Certified Lymphedema Therapist. She earned her Bachelor degree at Washington University and completed lymphedema certification from Klose Training.