Digital Mammography
Fayette County Hospital has added Digital Mammography to its Radiology Department through the funding of a grant and the generous support of our community's participation in fundraisers. Digital Mammography is a state-of-the-art enhancement to traditional mammography and replaces x-ray film with solid-state detectors that convert x-rays into electrical signals. These detectors are similar to those found in digital cameras. The electrical signals are used to produce images of the breast that can be seen on a computer screen or printed on special film similar to conventional mammograms. Digital Mammography also allows for shorter wait times for patients.
 
"With the addition of Digital Mammography to our department, we offer community members options for receiving advanced healthcare close to home". (Cheri Wolff)
 
Digital Mammography has greatly aided in the detection of early breast cancers. Recent studies show that as many as one in five cancers are still overlooked because the mammographic changes may be very subtle. It is the logical next step for locating some of these cancers. Digital Mammography has a number of attributes that may help a small breast tumor stand out from surrounding normal tissue. It is recommended over conventional film mammography at detecting breast cancer especially for women who are under age 50 (no matter what level of breast tissue density they have), as well as for those who are premenopausal (defined as women who had a final menstrual period within 12 months of their mammogram).
Mobile Mammography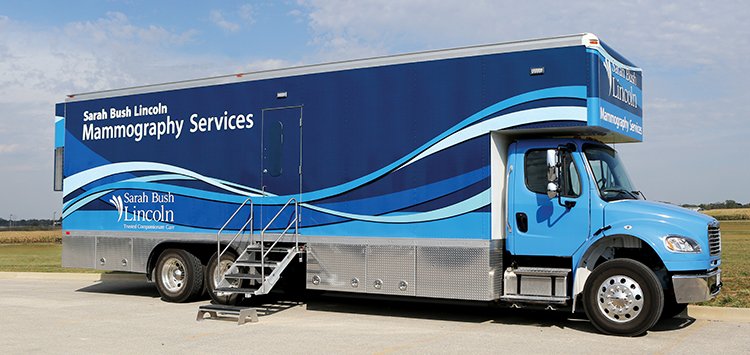 Sarah Bush Lincoln Fayette County Hospital is now offering 3D mammography for breast cancer screening.
"We are excited to provide these advanced screenings to give area women the best chance of survival," SBL Fayette County Hospital Radiology Manager Cheri Wolff said. "This 3D technology reveals invasive breast cancers in 41 percent more people than the traditional 2D mammography." The 3D mammography is particularly effective in screening patients with dense breasts.
The new service is being provided on Sarah Bush Lincoln's mobile mammography van, which is available:
10 am to 2 pm
Wednesday and Thursday each week
SBL Fayette County Hospital.
To ensure safety, mammograms on the unit are done by appointment only. Patients will be screened and asked to wear a mask.
Mammography breast imaging is of particular importance in the early detection of breast cancer because it is fast and accurate. With this advanced technology, SBL Fayette County Hospital provides a more accurate tool for breast cancer screening. The 3D technology is recommended for women of all breast densities because it allows radiologists to more effectively pinpoint the size, shape and location of abnormalities. This leads to better detection and greater peace of mind.
The mobile mammography van is available to all women regardless of their financial status. Women 35 and older, with or without insurance may call to schedule a mammography test. Women under 35 must have a physician order, but do not need insurance coverage to schedule a mammography test.
The mobile mammography van is staffed by technologist from SBL Fayette County Hospital who are certified by the American Registry of Radiologic Technology and are further certified in mammography.
We provide screening and diagnostic mammography services fully accredited by the State (MQSA), FDA, and ACR.
To schedule a Digital Mammogram call 618-283-5466.